» Business
» The Definitive Guide To Manage Your Retail Business in 2018
The Definitive Guide to Manage Your Retail Business in 2018
BY: JOYDEEP BHATTACHARYA ON MONDAY, FEBRUARY 05, 2018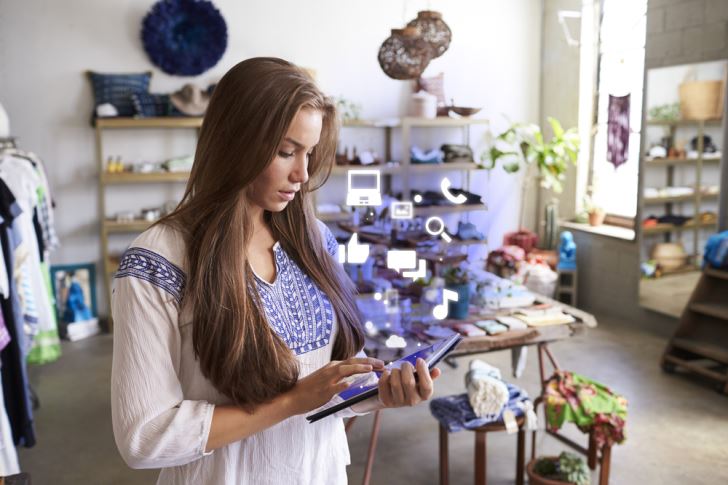 The complexities of managing a retail store hardly need any underscoring. Inventory management problems, surging rents of space, complex product lines, support for dozens of payment methods, loyalty rewards, special discounts, and competition with other similarly placed retailers – it's a tough world out there for the retail store manager. However, you don't have to be weighed down by the challenges of retail store management. Here is a dependable and definitive guide to managing retail businesses the right way in 2018.
Track Purchase Patterns Applicable to Your Retail Store
Nothing helps a retail store as much as the strategy of understanding purchase patterns across different variables and making adjustments in the product mix, retail layout, customer journey, and price mix accordingly.
Thankfully you can use a POS (point of sale) retail management software to take control. Shopify POS, for instance, works on all devices and truly integrate your physical retail store with your online store. Even if you don't sell online, Shopify POS offers you tremendous benefits such as the ability to:
Track inventory across channels
Manage complex pricing procedures (including taxation)
Accept payments via several payment methods and process refunds
Email receipts to users' email addresses

Make the Most of E-commerce Potential of Your Business
Chances are you deal with products that can be sold online too. Chances are you already have a basic e-commerce store set up for your retail business. 2018 is the year to truly activate and leverage the online channel for revenue generation.
Start by optimizing and improving your product pages. For most businesses, it's suitable enough to hire a team of e-store optimization experts to get things started. This way, you will certainly steer clear of pitfalls of e-commerce that cause e-store failure for most retail businesses.
Digital marketing for e-commerce can prove to be a massive enabler of success for your e-commerce. Email marketing and social media marketing are great starting points.

Drive Your Inventory Turnover Ratio Up
Inventory turnover ratio is a critical success parameter for retail businesses. It defines how many times a business is able to sell and replace its entire inventory within a given duration (such as one year).
Compare your business' inventory turnover ratio with the industry average, and evaluate your standing. Before you can do anything to improve inventory turnover, you need to understand the factors causing it to drop. Again, you need a wholesome retail management software with advanced reporting capabilities to track this and to perform specific analyses across product categories.
Review purchase prices regularly, and always push for discounts with vendors.
Stock up on fast moving inventory
Bundle low-price and complementary slow-moving products with quick-selling products.
Try preferential placement for slow moving inventory
Place bulk purchase discounts on slow moving products.

Take Control of Cost of Goods Sold
COGS – that's the common villain for all retail. Successful retailers are invariably the ones that are able to put the letters on their costs of goods sold (COGS). Here are some practices worth considering:
Be aware of possible inexpensive raw material alternatives to reduce costs of production, or to push your manufacturing contractor to do so.
Strip down unnecessary product features, if that helps bring down COGS.
Remember that in poor economies and competitive markets, suppliers and vendors tend to take every possible step to save a contract; so negotiate with all your might.
Build your contacts to identify opportunities for bargain buys (for instance, when a material vendor needs to dump inventory to arrange substantial and quick cash).

Start a Loyalty Based Rewards System and Take Care of Reviews
With so much competition to take care, how do you retain your retail store's customers? All it could take is a one-off discount from your competitor to have your customer changing loyalties! And, you know how tough and expensive it can be to acquire new customers. Here are some customer loyalty enhancement practices you can experiment within 2018, to find what works for your store.
Make it super easy, free, and super cool for customers to enroll in your loyalty program.
Work with a vendor to implement a card based, or online account based loyalty program for your retail store.
Offer real value upfront to users; for instance, joining bonus of 4,000 points, and keep 5,000 points as the point of the first redemption.
Once customers experience one beneficial transaction using your rewards program, they're attuned to the idea of sticking with you, to get a repeat experience, even if it's in the distant future.

Concluding Remarks
The routine operations management tasks and responsibilities of retail will never cease to burden you. Make sure 2018 doesn't prove to be merely a steady year because there's a lot of potentials to make a fabulous year for your retail store.



Image via Shutterstock